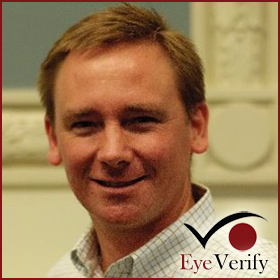 Apr 2, 2014
EyeVerify was founded in January 2012 and is based in the Kansas City are. The team of twenty is led by Toby Rush and has gone through two rounds of funding raising 3.8M.
EyeVerify is the exclusive provider of the Eyeprint Verification software solution available for Android and iOS mobile devises.
Eyeprint Verification is a highly accurate biometric system that delivers password-free, secure authentication at a glance. The unique, patented technology uses the existing camera on any smartphone or tablet to image and pattern match blood vessels in the white of the eye capturing an Eyeprint. The Eyeprint is the most accurate, cost effective eye biometric, with results as accurate as iris scanning and more accurate than the fingerprint.